Meet Angelina. Angelina is Elizabeth's best friend.
Remember Elizabeth, below?
Elizabeth is being adopted by a precious family. They are so sad to think that Elizabeth's best friend does not have a family coming for her. They are trying to start a very important fundraiser for Angelina. You can read about it
here
. If you'd like to participate, let me know.
Not only is Elizabeth's soon-to-be family concerned about Angelina, so is a 14 year old girl who is trying to
raise funds and awareness of Angelina's plight
. Angelina has just a few months before she will be transferred to a mental institution. This is the same type of fate our Vera would have been subjected to had she remained in the orphanage when she turned 7.
Angelina is just a few weeks older than Ella. A few weeks. Ella will be 7 on August 19th. Ella happens to be standing right beside me. I'm looking at her tiny self and wondering how in the world I could drive her to an adult mental institution and leave her there. How could I leave her in such hard surroundings. Yet here I am, standing by as Angelina staggers toward that very same journey.
I want to help her. How about you?
These are older pictures of Angelina in the awful glasses. See the little girl in the background, below? Her new mommy took a couple of new pictures of Angelina during their first adoption trip a few months ago. You can see one picture at the bottom of this post. She looks great without the outdated, too-big glasses they stuck on her.
Look at Elizabeth and Angelina playing mommy with their dolls together! I think Angelina would LOVE to be mothered, too!!
This button is another link to the blog of the 14 year old girl who is advocating for Angelina.
Isn't that just the best?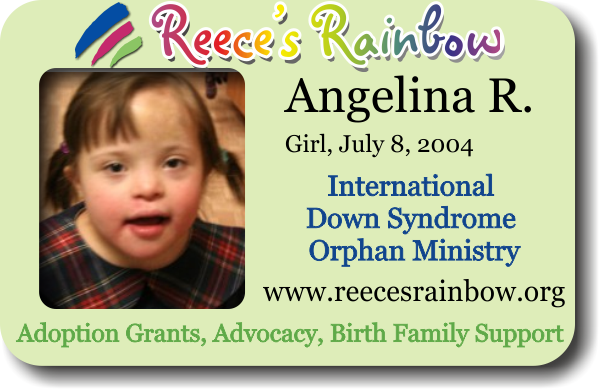 Grab This!
You can read all about Angelina
here
. She has a long list of medical issues, but mostly they sound like minor issues or eye-related issues. Honestly, she seems very healthy and fairly typical for a little girl with Down syndrome. That's not a medical opinion so please don't take it as such!
I know that many people were very moved to find out that Elizabeth had been transferred to a mental institution and they were spurred to action to find a family and get her out of there. I would so love for God to find a family for Angelina BEFORE she has to be moved from the orphanage. It's really not a bad orphanage at all and it seems she is doing well there. Let's don't make her take a trip to a scary new place.
Please share the blogs that I've shared. Share the pictures. Share her story. Let's get this sweet girl home while we still can. Thanks!