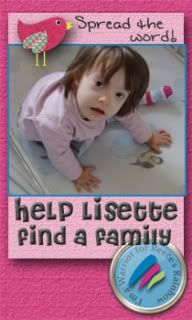 Girl, Born March 10, 2007
Lisette is healthy and active and just waiting on a mommy of her very own! She currently weighs 20 pounds at three and a half years old, so she's still tiny! She was born with a heart condition that no longer requires medical check-ups. She is sitting independently, crawling and can stand holding on to the side of her crib.
Her head was shaved this summer, but her pretty brown hair is already starting to grow back! We have many photos of Lisette from the previous year.
More photos available
.
She has a grant of $1791 today! The total estimated costs for adoptions in her Eastern European country, including travel, are $16,000, making hers one of the least expensive adoptions we have on Reece's Rainbow.
Can you tell she's one of my favorites? Even with the shaved head, she reminds me of a dainty little fairy.
Lisette was put on Reece's Rainbow last year just before Christmas, I believe, so she's been waiting almost a year. Actually, for a few months she had a family committed to her but they have backed out. On her birthday this year, I wrote a
birthday prayer
for her. My prayer today is that on her birthday next year she'll have a family working to get her home FAST!
I read one of the most touching, tear-jerking
blog posts yesterday at One Blessed Nest
. If you've ever thought that older child adoption would bring you an out of control, ungrateful child, please take the time to read about my friend Tina's precious daughter and her amazingly clear understanding of what it means to be in a family. It's why we do what we do...over and over again.